Travel relaxed to Dalmatia, even with a baby.
Tags:
To Dalmatia with children
,
Brac
,
Korcula
,
General
Many of our guests say that they have young children and that they would like to go on a luxury holiday somewhere closer to Slovenia, as Dalmatia and the islands in their opinion are way too far for a child.

Probably every family knows the best, how their children face with traveling, I'm on firsthand sure that children confront the trip just like their parents want to.
My personal experience traveling with a baby was very interesting, both times. Last october we went to the island Korcula for a whole month, my son was then just two and a half months old. We stoped on a halfway (in Zadar) and slept there one night, which left us a great impressions despite a short stay.

The hosts are very kind and incredibly hospitable. Beautiful views and wine in the refrigerator were more than excellent .
My son slept almost the whole way.
The next day everything was very relaxed. My wife and child went with the catamaran from Split to Korcula town (that our son would be as less time as possible in baby seat), and I went alone to the main road.

I filled the car with mandarins, figs and other specialties from Neretva and attacked the curves of Peljesac.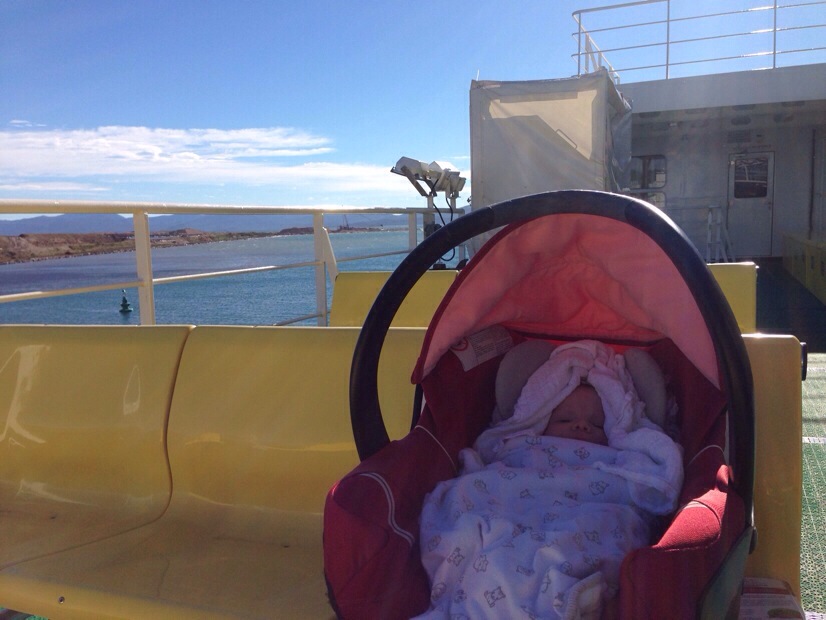 A beautiful road, which I wouldn't miss it for the world. An alternative to this road would be a ferry from Split to Vela Luka (which costs approx. € 40 more in one direction, considering all the costs), but where would I get mandarins?
Well, at that time also our neighbour, who lives under the luxury apartments Sunshine in Lumbarda, had it. We spent a sunny October there and swam in the sea almost every day (the male part of the family – to be specific :) ).

The temperature of the sea in Korcula at the end of October was stable 20 degrees!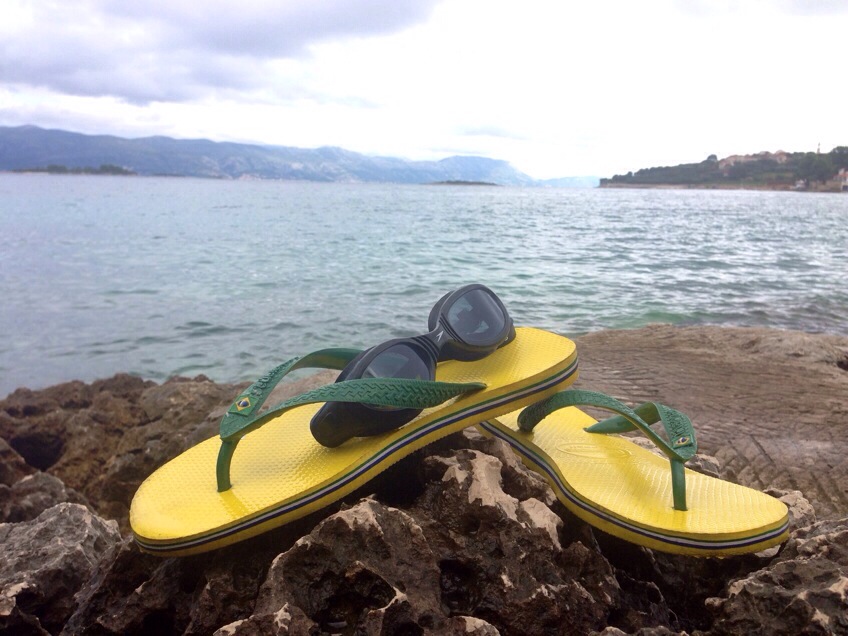 This year in May, we went on a very similar traveling road to the island Brac in the city of sports, Bol.
Our son now sleeps much less than last year and we were therefore a bit more worried about traveling.
We started packing one day before the trip and after careful selection, what we really need and what we don't need on our holidays, I found out that our car is still to small for everything :)
No matter how big the car is, my better half can always pack up more than can actually go in the car.
Ice men almost chased us from our native country and rain accompanied us all way to Velebit. 30-40 km before the tunnel "Sveti Rok we stopped (after 2.5 hours of driving) at the gas station Crodux, where they have delicious" gulaž " and other great dishes in a real restaurant.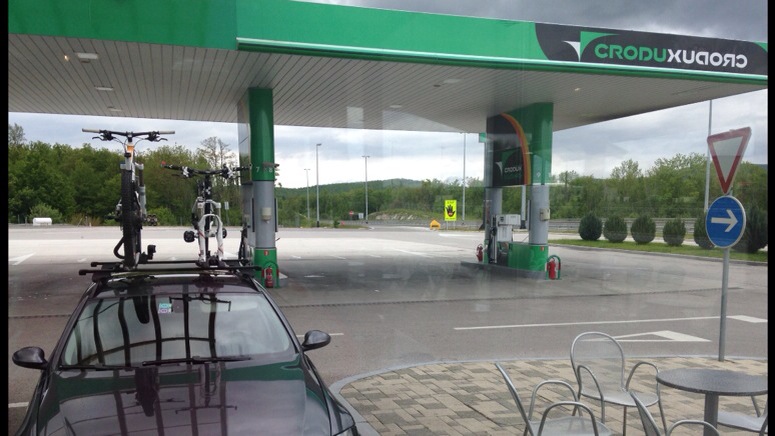 Free Wi-Fi has come in handy here, that we could be up to date with the situation on the road.
In the ladies room we changed the diapers (very child- friendly at the majority of Croatians stands) and pleasantly rested and with full tummies went towards Split.

I strongly advise you not to hunt the ferry, because they drive often enough in low season too, and the trip is that way much more relaxing. Our little guy had fun with songs of a cat Muri, and we sang with him too, so the trip wasn't boring at all.
Certainly I can say that he confront with the trip really good and that the fear of too long journey is in most cases completely unnecessary.
Since we had enough time, we stoped in Split and ate some BBQ snack on the stand by the city hospital (the last traffic light before you drop to the old part of the city on the right side, there is also a DM shop with bio baby food) that ensured us a peaceful 50 –minute ferry ride to Supetar on Brac.
From there you have just 35 minutes of driving around the beautiful Dalmatian island Brac, where you lift towards the center of the island and cross it past the airport, and then descend into the Bol – by fantastic panoramic winding path with superb views of the island Hvar and the sea in between. Everything is great marked, so the navigation is practically unnecessary .
I can say that the toddler enjoyed in interesting day and he was really enthusiastic during the "BRBR " ride (ferry ride). This moving wonder on the water has been very interesting to be palpated and watched!

Let me add only that he taught crawling on all fours in luxury apartments Bol, so the floor was always clean :)