Holidays with a toddler
Tags:
korcula
,
brac
,
to dalmatia with children
Imagine going on holiday with someone who can't stay still, changes his mood constantly, gets his hands into everything, gets tired easily and lets you know loudly when something isn't right.
Welcome to travelling with a toddler.
Before you give up on the idea of going on holidays for the next few years, let me calm you that holidays with a toddler can also be super fun and exciting, if you only do it right. You just have to make a good plan and choose your holiday destination wisely.
Want to know where is the secret? Don't stop reading :)

I am a mother of a 20 month old boy, who doesn't like travelling – at all. Sometimes he can't sit still in his car seat for not even 5 minutes. He starts screaming, crying and kicking like a ninja - great acrobatic skills though. :) A pleasant relaxing ride to the sea side has suddenly turned into a nightmare with my toddler playing the main role. This was very frustrating at first, until I realised that a good preparation can change everything.


So let's make this holiday plan together :) (almost all points also apply for flying with a toddler):
- Make traveling stress free.
Children are mirrors, reflecting images of what happens around them. When travelling, try to be as calm as possible, so your toddler will also be relaxed. You are going on holidays and that's a good thing. You will have the best time of your life there; admiring the beautiful Adriatic Sea and this are first holidays at the sea for your little one. She/he is going to enjoy it very much, so just relax and get ready for unforgettable ride :)
- Pack healthy snacks.
Pack some of his favourite fruit, slice of bread, a box of raisins is also great because it contains natural sugars, while strawberries, grapes and cherry tomatoes are similarly healthy and fun to eat (although potentially messier than raisins). Don't forget on the water, to keep your toddler hydrated. Keep all the snacks and especially wipes within reach. Bring lots of wipes, you will need them.
- Entertain your toddler with music – sing together with your kid.
If you are on the plane, you can give him/her headphones with his/her favourite children songs, while you can enjoy in reading your favourite magazine.
- Occupy him with the toys and books you have brought from home.
This will make him busy for 15-20 minutes (if you are lucky).
- Stop and let everyone play.
One of the parts of my successful road trip with a toddler are planned stops. We do our first stop after about 2 hours of driving. We always try to stop somewhere with a playground and a lots of coffee for mommy. We stop for at least half an hour, to let the kids play and burn off some energy. We also use stops for mealtime. If you're traveling with a baby, find a spot where you can spread a blanket for him to lay and crawl and wiggle a bit, especially on his tummy since he's been on his back in the car seat for so long.
I know that this is not possible when you are flying, but at least you can get up and take a short walk to the toilet, just to stretch your legs.

Ferries are also a great way to stop off. There is plenty of space for the children to run around, play and relax. You can also walk around the terraces and admire the Adriatic Sea and start getting the brown color on the ferry already. If you are lucky, you might even see the dolphins!
- Getting your toddler (or baby) to sleep on your road trip/flight.
Travel in that part of the day/night, when your toddler usually naps. For example, we went on a weekend getaway a few months ago, right after lunch, when my boy usually has his 2 hours nap. After we started driving he fell asleep and we were good for 2 hours :) If there is any music that will help your toddler sleep in the car/plane have it handy.
- Watching cartoons on your iPhone
I usually do that at the end, when my toddler is super annoyed and doesn't want anything else. This is subject to your family's preferences about electronic use, of course. Episodes of their favourite cartoon can keep them quietly entertained for a very long time.

Now you are all set and ready to go. Oh wait, what about your holiday destination? Below you can find my personal favourites and also the reasons why:

1.) Lumbarda on Korcula Island
Apartments Sunshine & Eco Aparthotel "The Dreamers Club"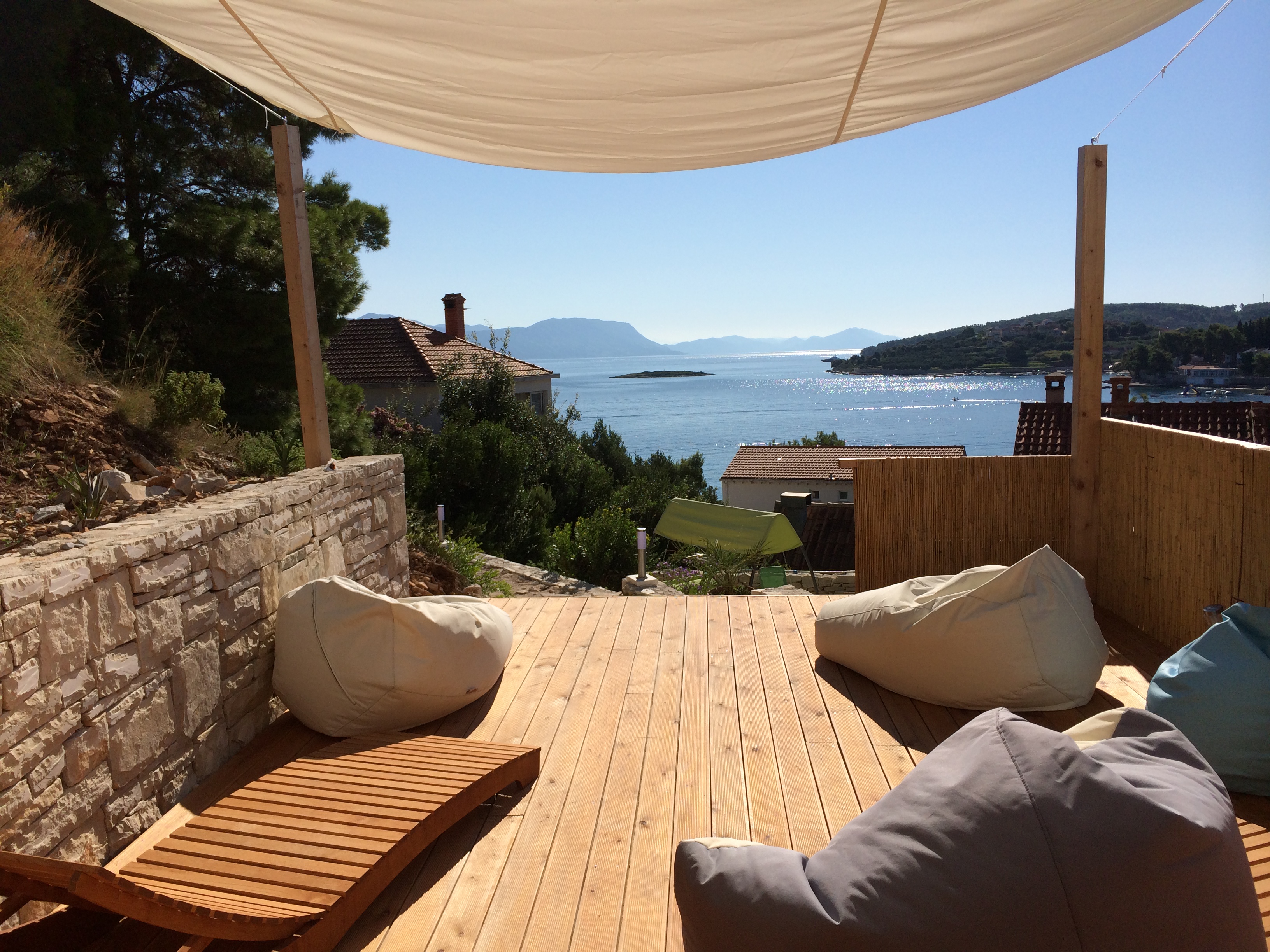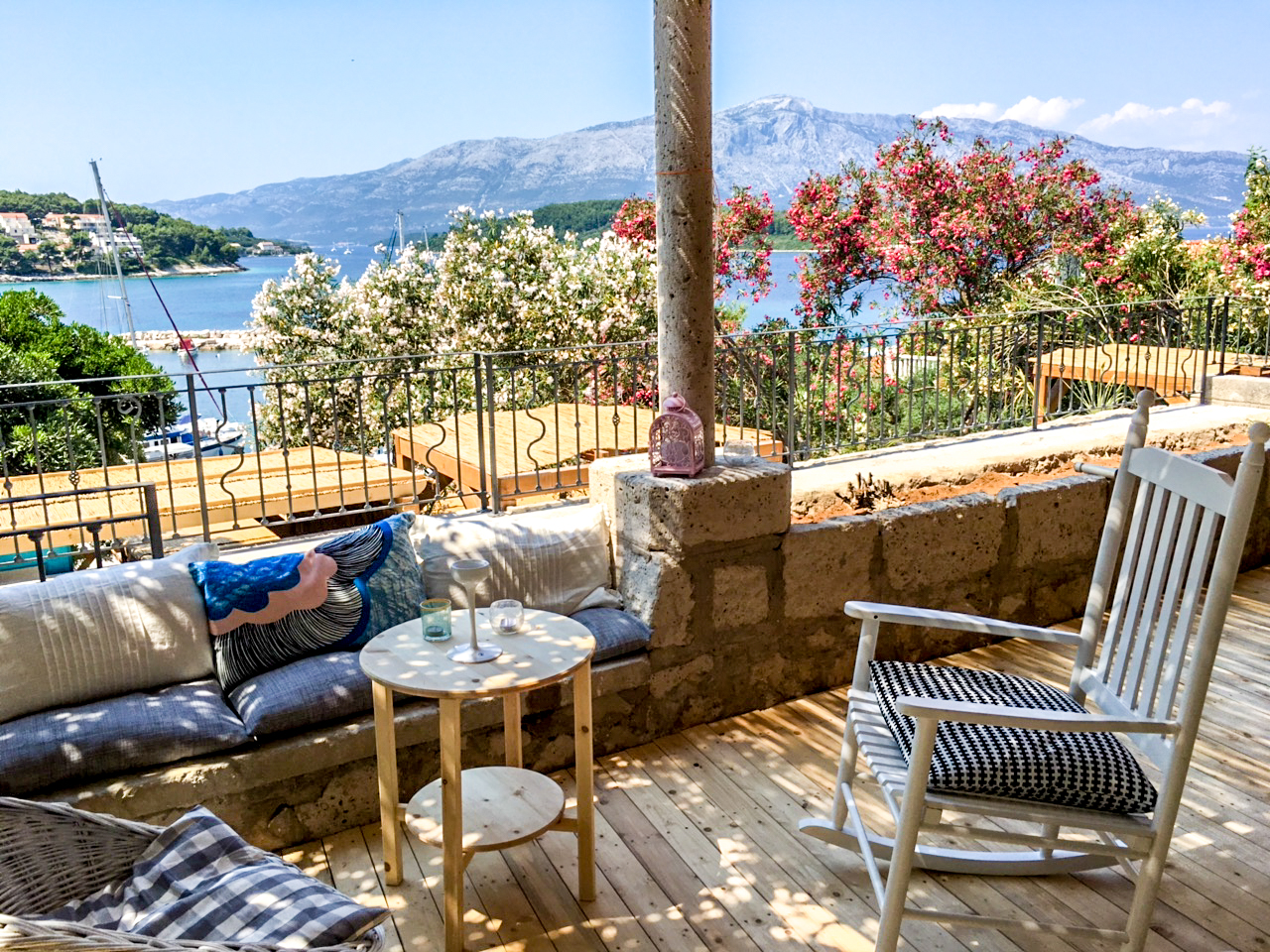 Apartment house Sunshine (lounge terrace by the pool) Aparthotel The Dreamers' Club (apartment Arabia)

Apartment house Sunshine is only 60 m away from the first beach and features a pool - perfect for little enthusiasts who like to paddle in the water and play with friends while the parents lie on the sun beds and read their favourite book.
To reach the sea from aparthotel "The Dreamers Club" you will need only 10 m; the first pebble beach, ideal for small toddlers, called Prvi Zal, is only 50 m away! This beach features cocktail bar and children playground, so everybody in the family will be happy there :)
Apartments Sunshine and aparthotel The Dreamers' Club are very popular family holiday destination also because of the two sandy beaches located nearby (Przina and Bilin Zal) - 2 km away from house Sunshine and 1 km away from aparthotel The Dreamers Club. Babies and toddlers love a good sandy beach – there's so much to explore, so much to do! From digging for hours to taking their first tentative steps into the sea, watching a young child on the first beach holiday is a pure joy!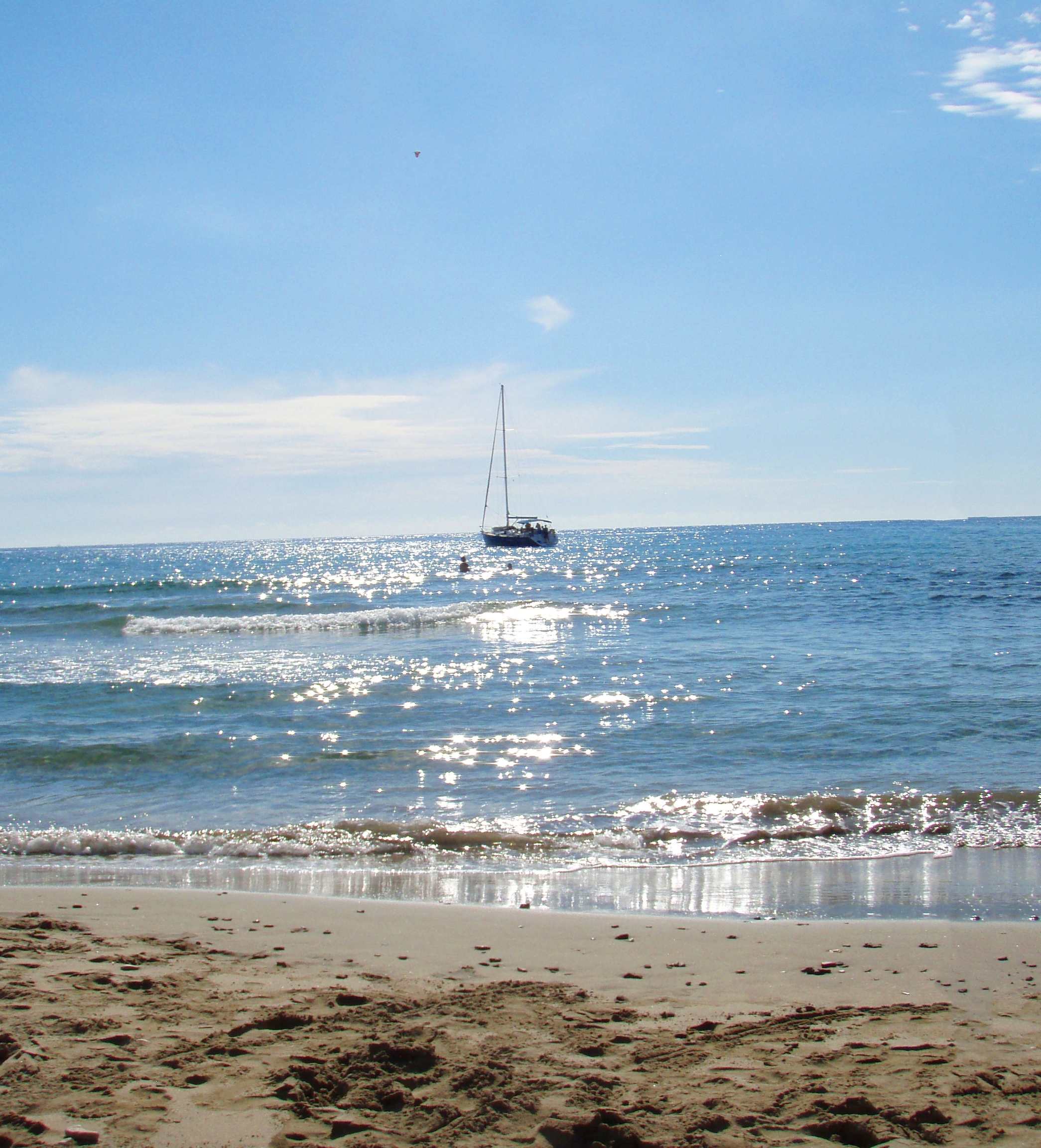 Przina beach

You can rent bikes with child seat in both apartment houses and discover Lumbarda with bicycle.
In Lumbarda you can also find trampoline with children playground and ice-cream stands (approx. 80 m away from The Dreamers' Club and 600 m away from Sunshine apartments) and some great restaurants offering fresh local food. Enjoy exploring it and introduce your toddler to the gorgeous taste of fresh Mediterranean ingredients.


2.) Viganj on Peljesac Peninsula
Apartments Viganj with pool, Villa Nelly (bikes included in the rental price)

Peljesac Peninsula is famous by its fantastic beaches. Below you can find only a few of my favourite beaches, suitable for families with children:
-Beach in front of the apartments Viganj with small white pebbles is great for toddlers. They can distract themselves with throwing little pebbles in the water, while you can lie on your deckchair and enjoy your 10 free minutes.
-Beach Divna – located 25 driving minutes away towards Trpanj. Divna is a 200-m long pebble beach, very popular among locals and families with children.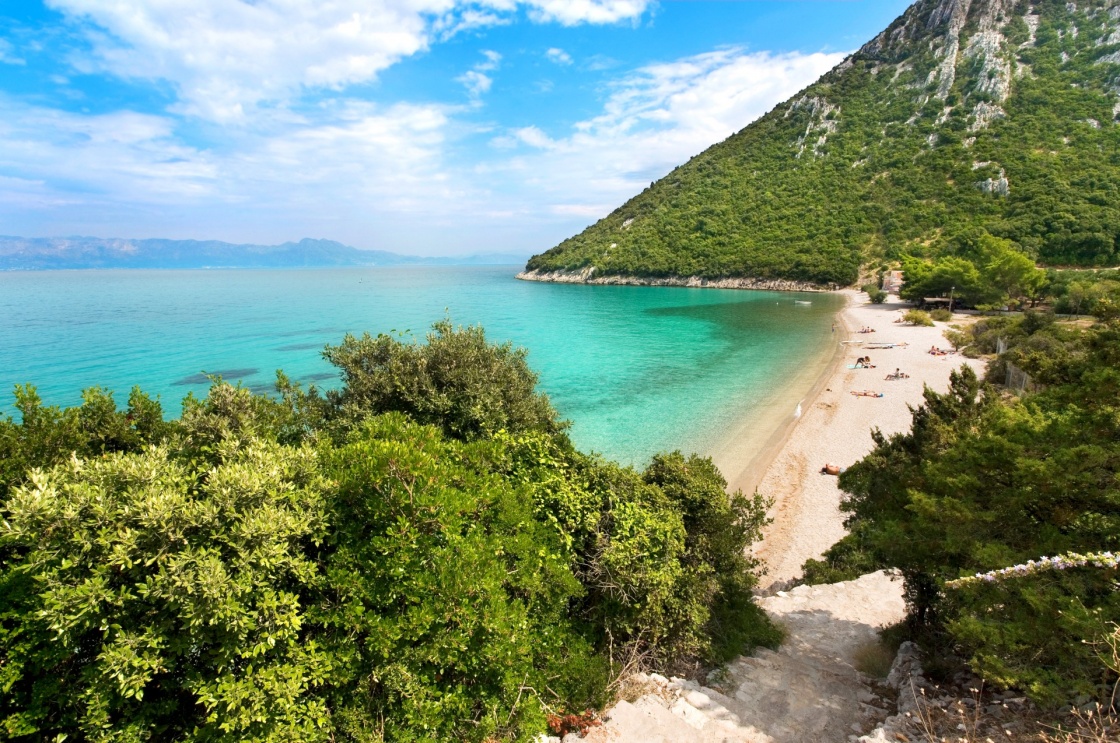 -Trstenica beach (Orebic town, 10 driving minutes away from Viganj). This long pebble beach has a slow descent in the sea, with a shallow sandy seabed at the sea entrance. In the back of the beach, tall pine trees provide enough shadow from the strong summer sun. There is a restaurant close by where you can have a lunch, a quick bite or just a drink.
-Prapratno sandy beach is distanced 6 kilometres south-west of Ston town. Due to the fact the sea is shallow this is the paradise for the kids. It is surrounded with pine and olive trees which offer shelter from the sun. In nearby area you can find many restaurants, bars and shops.
Sandy beaches with shallow, calm waters will allow your children to explore – and allow you some time to relax, too.
In Viganj you can also find smoothie bar, pancake bar (at the main beach) and ice-cream shop called Croccantino (the best in the whole Croatia!). I am sure your toddler will get excited when hearing those facts :)
One more thing, that also proves that Viganj is toddler-friendly destination, is that in high season, Water Donkey (Windsurfing and Kitesurfing School in Viganj) organizes cartoon evenings for youngest children. They prepare cosy fat boys, LCD television and popcorn and play one animated movie or few cartoons. So your toddler can relax and enjoy watching cartoons before bed time. Dream holiday destination, right? :) Yes, if you ask my toddler…
3.) Eco Boutique Buqez Resort in Pakostane

Beach front Eco boutique resort Buqez nestles among olive grove on the white Dalmatian coast between Biograd na Moru and Šibenik. The resort has a private pebble beach (50 - 150 m away from the holiday home) perfect for kids and its own Buqez Beach Bar (ice cream available). The sea is crystal clear and the bay is one of the most beautiful in Croatia. But, most importantly, the beach is quiet and not crowded at all.


4.) Brac Island, Bol town
Penthouse apartment Zen

Brac Island (Bol town) is the perfect destination for a family holiday. Beside all beautiful pebble beaches, where your toddler can explore and have fun in the water, there are also a couple of free playgrounds to burn off some energy. One can be found halfway along the promenade next to cocktail bar Bolero in the shade of the pine trees. While your little one plays in the playground, you can relax and sip a cocktail or coffee. The other playground is situated to the east of the town centre, close to Ribarska Kućica restaurant and beach - an ideal play area to go to in the early evening or on cooler, cloudier days as there is no shade.
Below you may find my suggestions for beaches you can visit with a toddler in Bol:
- Golden Horn Beach
The long pebble beach at Bol town, which extends 500 m elegantly into the sea, is the most famous beach on the Island and actually whole Croatia. The beach has such fine stones which almost feel like sand. Pine forest covers central part of Golden Horn. This area provides lots of shade. At the Zlatni Rat beach you'll find all necessary facilities, from showers, and changing cabins, to fat-boys, sunbeds, chill out bars and one restaurant.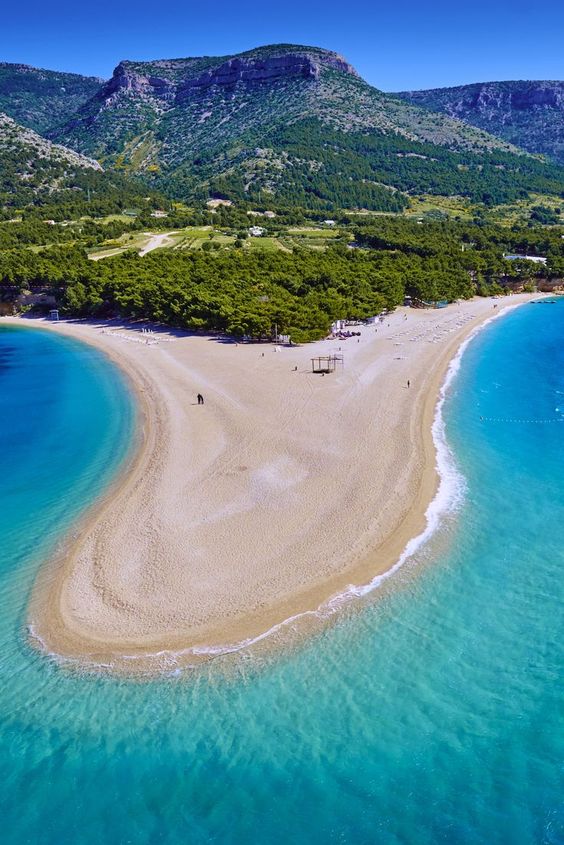 - Murvica Beach (my personal favourite)
Only 5 km from Bol town lays the picturesque village Murvica, situated on the very cliff of the island and surrounded by charming vineyards. Pine trees provide a natural shade, but beauty there comes with a price. After parking your car on the top, you have to descend to the beach on a step walk.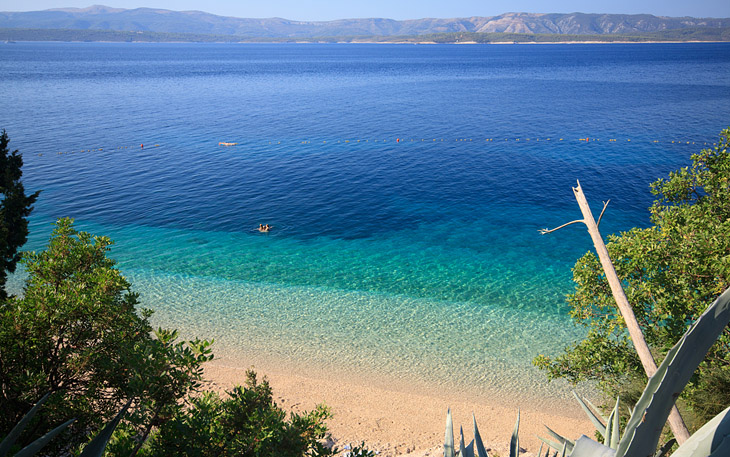 - Martinica beach
Martinica beach with small pebbles, near the town centre, is divided into two parts by a small cape with a monastery. The beach offers only little or no shade, but in the afternoon when the typical Mistral wind is blowing, it is sheltered by the monastery's promontory. We can recommend this beach to families with children, because in summer swimming lessons for kids of all ages take place.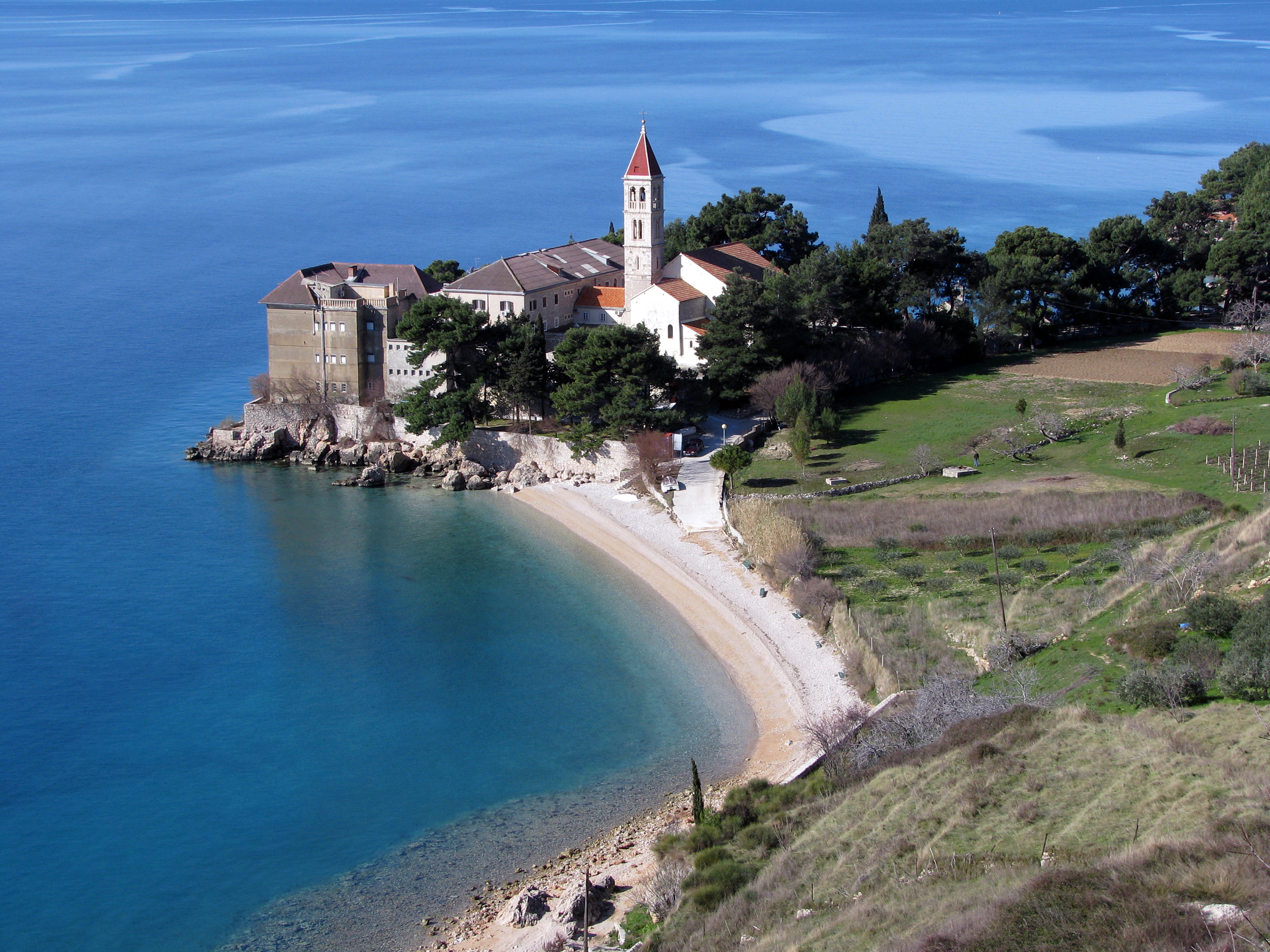 All those mentioned apartments & houses are located by the sea or in its vicinity. By staying in one of them, you can give your toddler a rest when they need it (afternoon nap), while you still get to lie in the sun with a book (and baby phone). Your holiday will be a lot more fun if your toddler gets the rest they need, but that doesn't mean you need to sacrifice your sunbathing time or romantic evenings as a couple.


That's how I travel with my toddler. I wish you good luck, stress-free travelling and unforgettable holidays on the beautiful Adriatic Coast. Have fun!


Tjasa Muhic, an Adriatic Team member and a fascinated lover of the Adriatic Sea