Cycling on Brac - Climb to the mountain Vidovo
Tags:
Sports in Dalmatia
,
Brac
Cycling climb to the highest mountain of all Adriatic Islands, Vidovo mountain. Road is accompanied with beautiful panoramic views of Islands Brac and Hvar, Golden horn beach and surrounded with beautiful nature.
Bol on Brac island has on one side beautiful view to the island Hvar and on the other side on mountain Vidovo, which rises with all her mighty above the city and gives a sense of safe mountain that looks out on this beautiful place. In the beautiful May morning at the pleasant 20s degrees we (the team of three cyclists) went off from our luxury apartments Bol offered by Adriatic Pearls in its selection of beautiful apartments on the Adriatic coast, towards the village Murvica, which is 5 km away from Bol.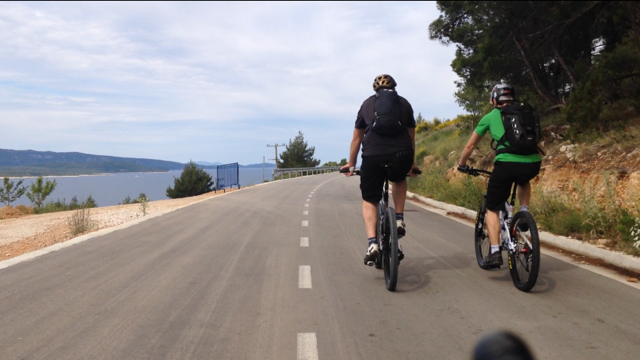 It is a paved road, which is approximately 70 m above sea level and provides views on the famous beach »Zlatni Rat«, island Hvar and when we get a little higher up, also to the island Vis. The trail led us through the vineyards (here are all planted in the mountainous areas, so their treatment is particularly difficult), coniferous forest (which had a very nice smell in this late spring) and broken rocks, which were modified for local road.
As you will see, Golden Horn is not the only beach in the area of Bol, on the way to Murvica there are a several beautiful bays with turquoise water, which are certainly not reached by mass tourists. Just drop it on the local road or dirt track and you'll have much more privacy than on the most famous beach in Croatia.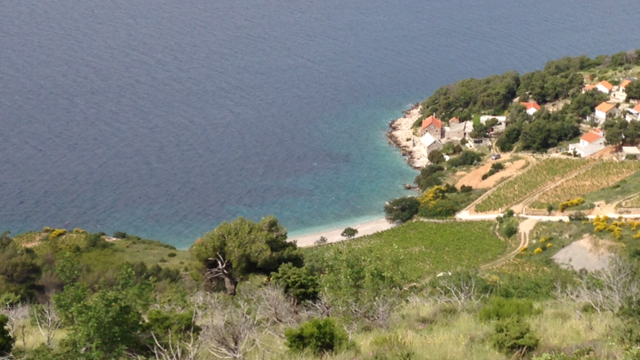 In the village Murvice the path continues to the dirt road that starts slowly but persistently ascend and descend in a very picturesque rural environment, full of vineyards, which are particularly fertile when Dalmatian sun shines on them. After a few kilometers of dirt road, the route sets up, and it is clear that the climb to the mountain Vidovo begins. Otherwise, there is no mark but also no turning, so it is practically impossible to miss it.
Here you will see the difference in shape between cyclists and that day was no different. There is around 450 meters of climb, 560 meters above sea level, waiting for us, to place where the paved road begins again. Be prepared for beautiful views and a lonely journey, because not a lot of people use this way to reach mountain Vidovo. As well be prepared on the fact that at time to time you will have to cycle very hard, as the ramp is placed in serious slopes, but fortunately they do not last long. For the first mountain biking tour this year, this will be just fine. Guys used vantage points for small corrections on the squealing brakes, while the team gathered together again.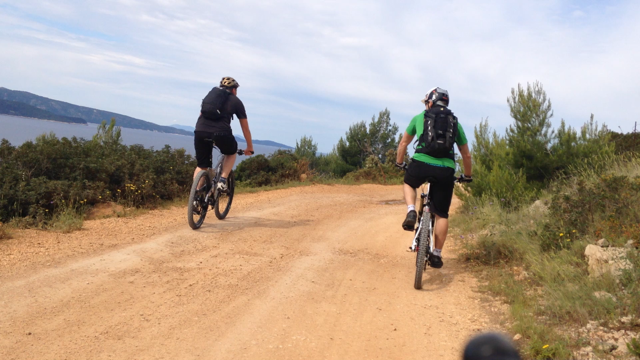 At the end of a dirt path begins the new asphalt road that takes us into the heart of mountain Vidova and after a few kilometers we came to the table that talks about an educational trail »smoljarjenje« on mountain Vidova where we turned left to the acicular forest and start cycling towards the top. When we reached the pastures, which are protected by a fence, we found a fance gate and didn't forget to close it when we entered– on the both sides. We did not manage to see the livestock but when we heared the banging bells, I would say that there were cows »Braške«. The old demolished house will remind you on the barracks and sign for shooting range a few meters away, will only confirm that. We continue along the narrow asphalt road, where you will met a car or two, full of enthusiastic tourists who came to see the view from the mountain Vidova. We still have a few miles of a gentle rise, which leads through the woods to the top. When you will see the antenna through the canopy of trees, you'll know that you're almost there. Ringing cows will encourage you to continue these last meters and after about 3 hours of cycling you will see a sign that designate the final destination.
The restaurant unfortunately was not open (in season probably it is), because I would buy Coca Cola for all of us. Well, on sunny days like this, you should take with you snack and at least 2 l of water, because you will surely run out of energy stocks after two hours .
At the top may blow a mild south wind, that will remeber you, that taking a jacket with you was a better than good idea. And you can enjoy the views on Bol and Hvar, and you can practically see Jelsa, old castle, and all, more or less, local roads. Golden horn will from here look very small, but not less special.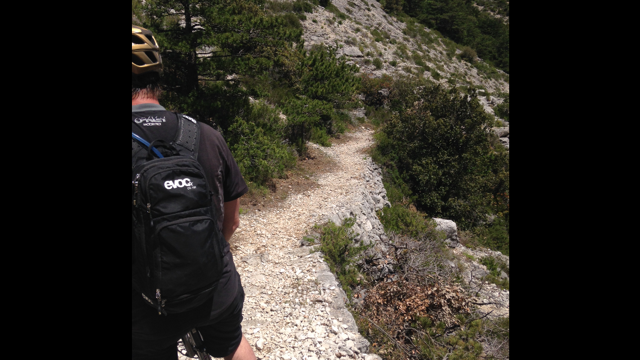 I recommend only mountain bikers with full suspension bikes (I recommend also flat and not SPD pedals) to go downhill on technically demanding walkway. I otherwise have SPD but it was a little less pleasure for bends. It is necessary to have with you a spare tube and some room for rosemary twigs which are waiting to be picked up and then used in afternoon BBQ.
Markings will lead you to the footpath that leads you in the descent to Bol. Start of the path is clearly marked on the ramp of parking lot (left if you are watching the island Hvar). The descent is at least half an hour long, even if you are well prepared.
The descent ends above the market Studenec, just before you reach the town Bol. From there follows only a light road to your apartment, where a cold beer and chicken that you will rob with sprigs of rosemary and roast on the grill, will certainly wait for you. About cooking on thre grill, read more here.