Kiting in Viganj, Croatia
Tags:
Sports in Dalmatia
,
General
,
First time in Croatia
Since I personally practice kiting in Viganj (that is where I learned to kite :) ) I thought I would tell you some tricks and ideas based on my personal experiences :)

The water in Viganj is not shallow for a long time, so first few steps may be a bit more difficult than for example in Egypt.

But once you learn to kite, bodydrag or waterstart in Viganj, you will learn for real and become very self-confident and independent!

The name ob two best surfing and kiting schools are Liberan and Water Donkey.

There is a third school there too, Maritimo surfing school, but they are new and we don't know them yet.
Viganj is a nice spot for beginners, since most of the time they have wind Maestral, which is a light wind ideal for beginners, not to strong, not too weak.



You will mostly need 12 m2 and 13 m2 kites , women can pull it off with a 9 m2 kite. Light wind boards are preferred (140 cm for men).

The wind (meastral) blows mostly from 11-12 am until 18-19 pm. It is a termical wind and its average in 2014 was between 13-16 knots, ocassionally up to 20 knots.

I wear shorty (neopren) even in summer months (July, August, September), but I am a woman :) I also see some man wearing just shorts and lycra shirts. In April, May and June you will need a long sleve neopren.

Since kiting is done in deep water, you may consider to wear a swimming vest, espacially if you are begginer and you still sometimes fight with upwind body-dragging after you loose your board.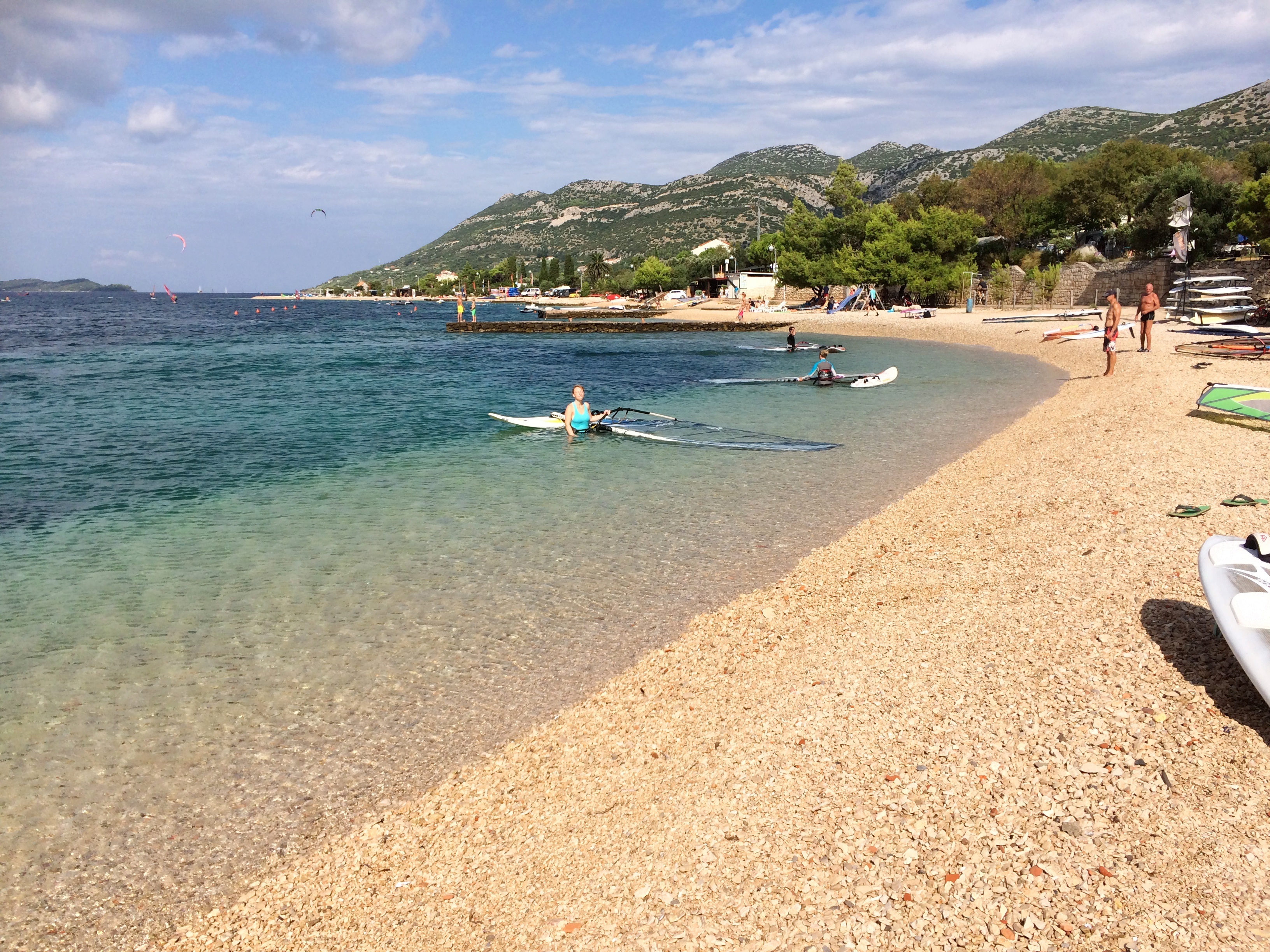 Waves in Viganj are very small, you can hardly call them waves. :) But still, the water si not completly flat.

Kiting and surfing equippment can be rented on spot as well. If you book learning seassions, in group or private, you will get the whole equippment included in the price. You just need your own underware and swimming shorts:)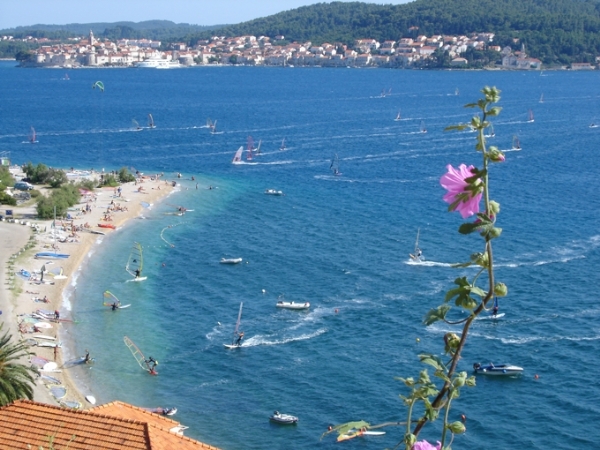 - it is possible to do cat-sailing on the other side of the channel, on Korcula Island, where a nice sailig school Oreb is based (you have regular tax boats operating between Viganj and Korcula, it takes only 15 minutes to cross the channel)
- the nearest Airport is Dubrovnik, yes, about 1,5 hour drive to Viganj (you can get a transfer bus for 35 € per person from the airport to Viganj apartments or you can rent a car, although as a surfer, you won't need it much - everything is there on a walking distance – market, surf/kite spot, taxi boat to Korcula, good restauants :) )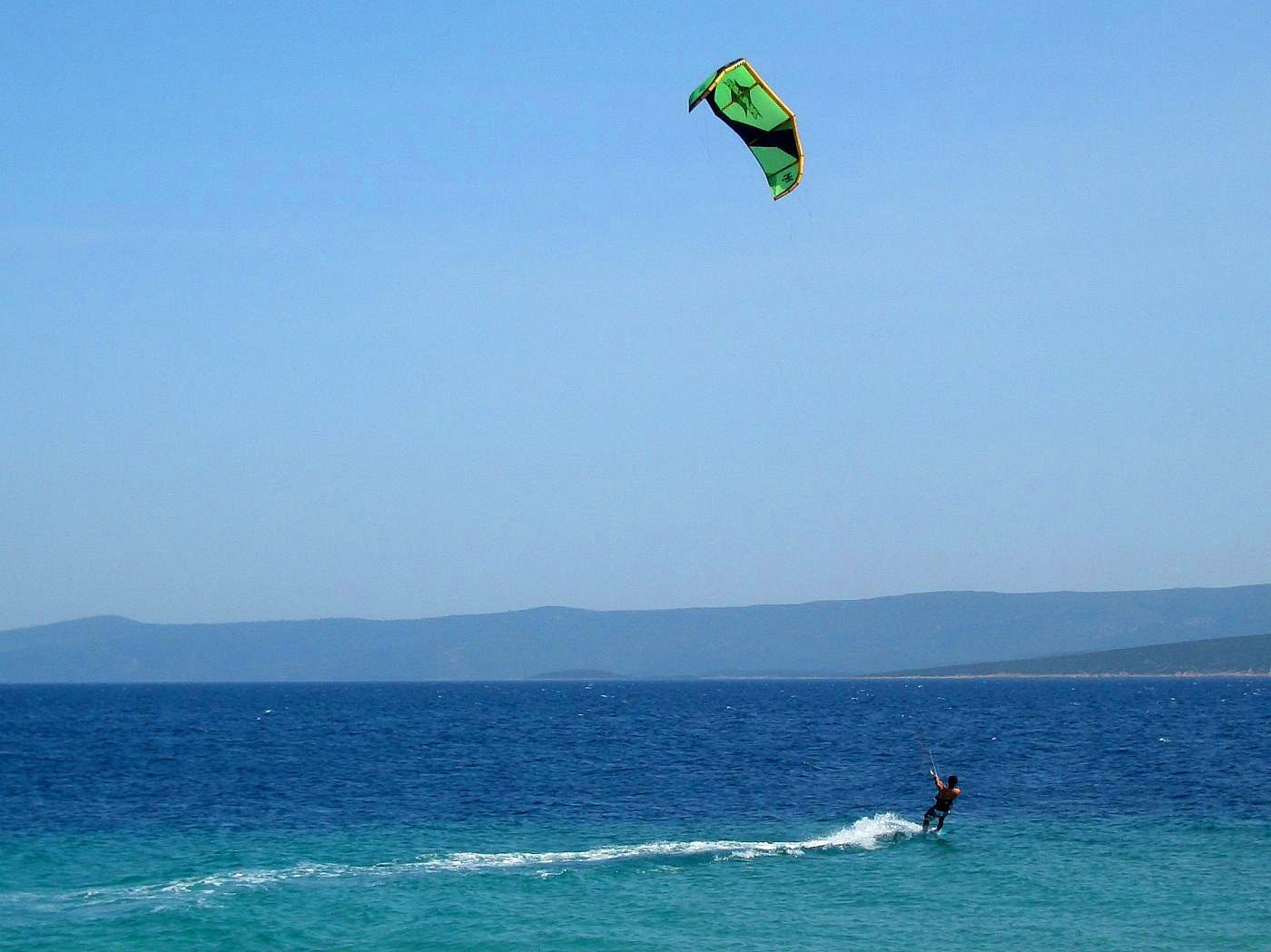 - between Korcula – Orebic there is a ferry every hour, but you don't need to go to Orebic (only if you have a car), you can take a passanger's taxi boat to Korcla directly to Viganj and have a delicious dinner in a very romantic old town of Korcula and return with a boat (it costs only 2 € one way per person).
I am absolutely in love with Viganj, its beach bars (Chiringuita, where you drink a nice cocktail after a day of surfing and watch an amazing sunset :)