Beaches on Peljesac Peninsula
Tags:
To Dalmatia with children
,
First time in Croatia
,
General
Peljesac peninsula has many astonishing beaches to satisfy a various types of visitors, their desires and expectations. Here you can explore a vivid range from long, wide and highly visited sandy beaches to small hidden pebble coves which can be accessible only by a boat or following accurate instructions by the locals. Below you can find some hints about different beaches along the Peljesac peninsula. If you wish to explore some more what Peljesac has to offer you can join visits of the beaches with interesting tourist sights or vineries. Many of these beaches can be quickly reached from your luxury villa or luxury apartment. So grab your towel, hat, favourite book and start enjoying your vacation! :)
1.) Beaches in Viganj
Beaches in Viganj are mostly pebble. Along the coastal road you can find many small beaches where you can have some privacy. Small pine trees provide shelter and protection from sun until the late afternoon. Further towards the end of peninsula (west) you go, less people and more privacy you get. Just step outside of your luxury villa Nelly or luxury apartments Viganj and explore nearby pebble beaches.
- Punta is the main beach in Viganj where all the action takes place. In the afternoon when maestral winds starts to blow it is highly occupied with wind- and kite-surfers. So during strongest winds it is not advisable to swim in this area far from the beach. Swimmers and visitors observe the action from south side of the beach while north side is "reserved" for the gear. Those who wish to swim usually occupy small beaches and areas which are next to the main beach. Whole beach is fully occupied with swimmers when there is no wind. Especially families with small children will love it. You will love the beach bar where you can enjoy refreshing drinks and hide from the sun, observe the sunset or spend relaxing evening hours in company and enjoy a view over the Korcula town.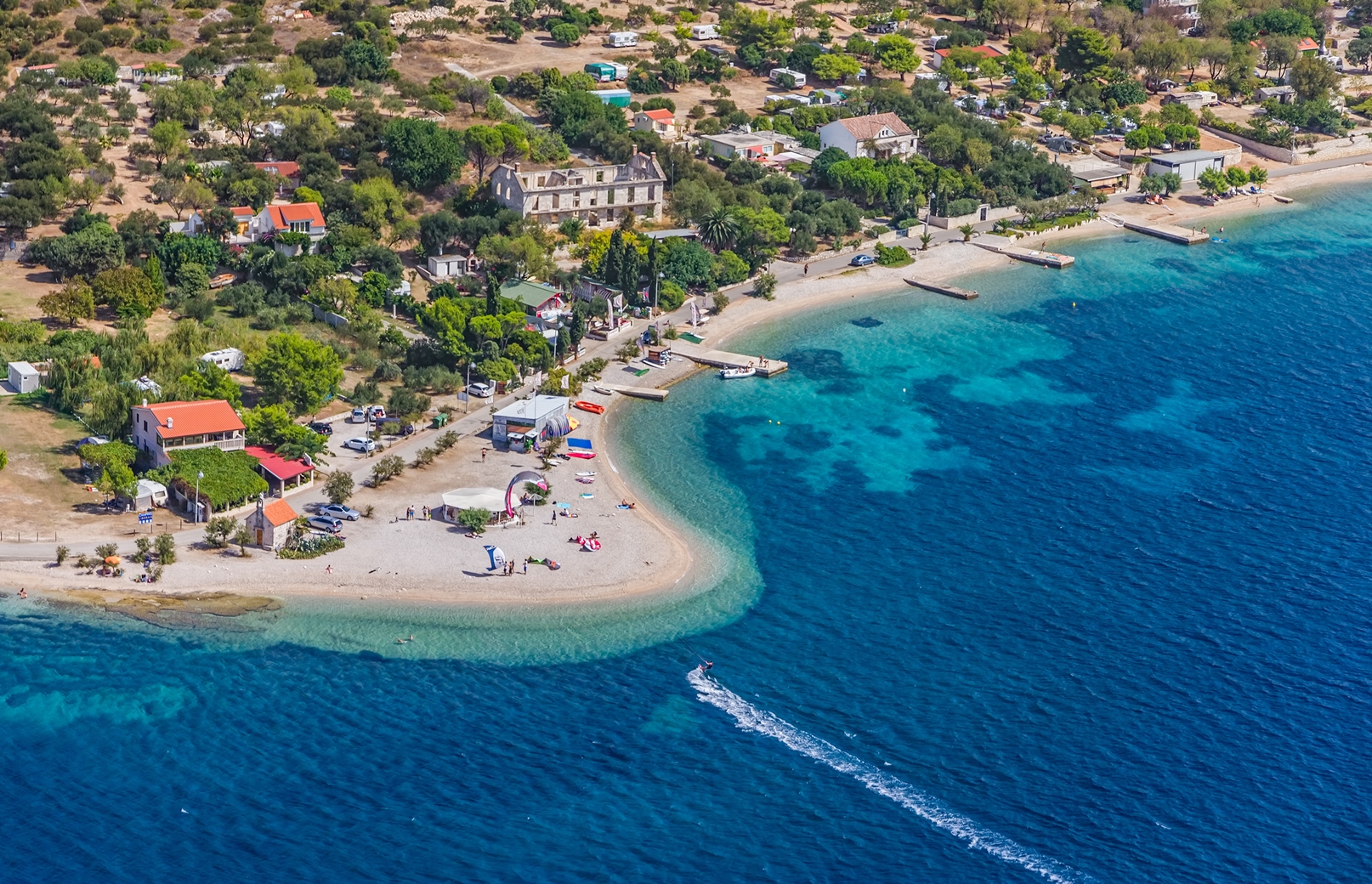 - Perna is located 2 km south from Viganj, followed by coastal road. The beach itself is very popular among families due to the small white pebble stones. In the afternoon when maestral wind starts blowing, a part of the beach is occupied with wind- and kite-surfers and the other part is only for swimmers. Coastal road from Viganj to Perna is a highly visited especially in the evenings by walkers and joggers. If you wish to have a relaxing evening walk from your luxury villa then direction of Perna is surely the best one :)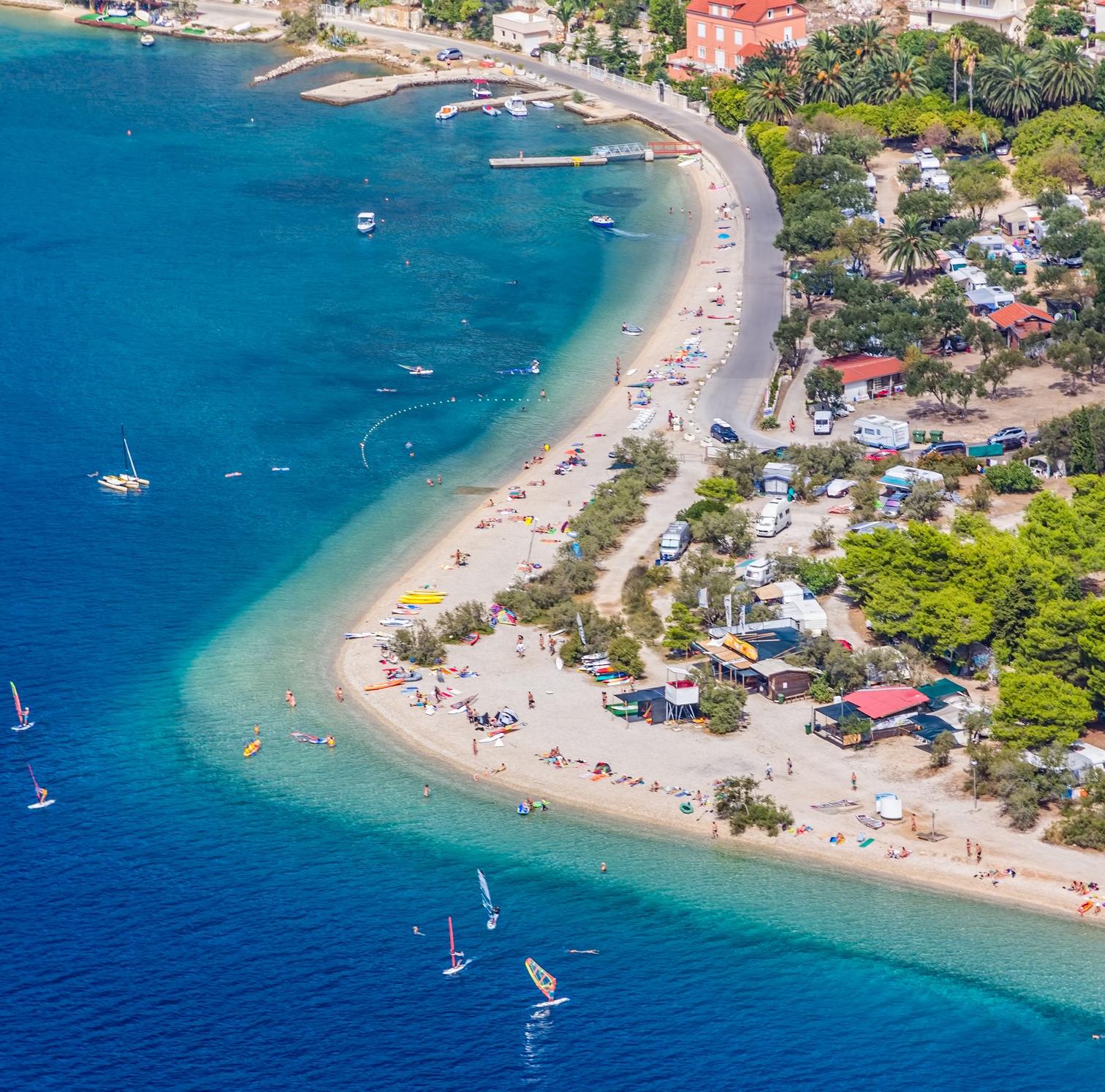 2.) Loviste – small hidden beaches
Loviste village is located on west end of Peljesac peninsula. To reach it you need a car or a bike (if you are in very good physical condition for cycling). Here you can find many secret pebble or rocky beaches where you have a complete privacy and peace. Bays with crystal clear and warm sea are paradise for tourists and locals. :) Some nice and unknown beaches can be reached with following the local macadam's roads towards south and also north from Loviste village. This area truly is an undiscovered pearl on Peljesac.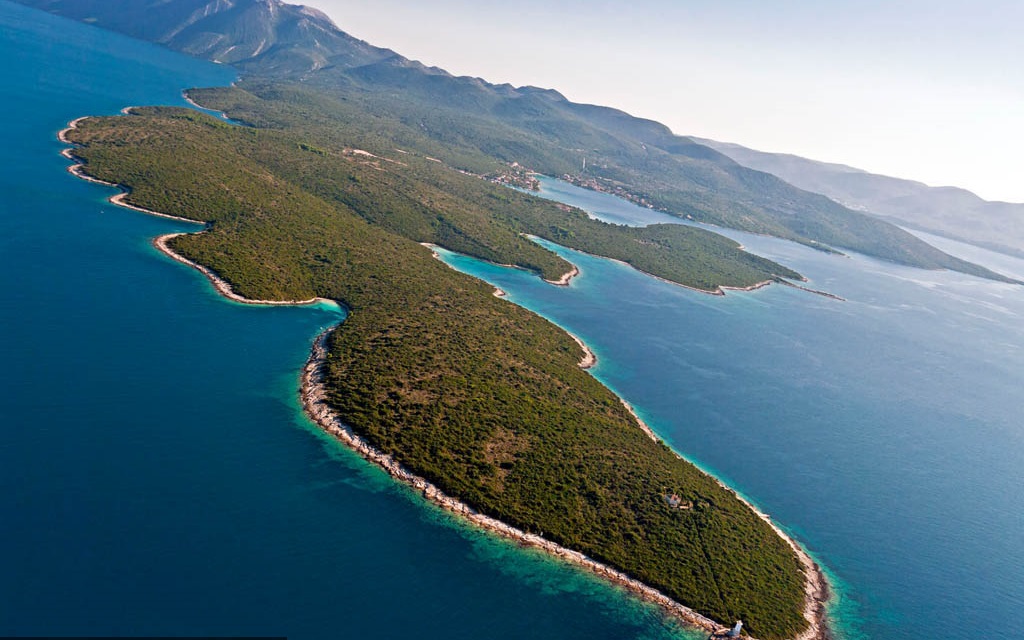 3.) Mokalo beach
Mokalo beach is distanced 3 kilometres from Orebic and considered as one of the best small beaches at the Adriatic. It is made of white Dalmatian stone and surrounded with pine trees and tamarinds. Here you can enjoy in first class sunset – many say it is the most beautiful one at the Mediterranean sea. In nearby area there is also a scuba diving centre where you can rent the equipment and take one of the tours to explore the underwater areas of Peljesac peninsula.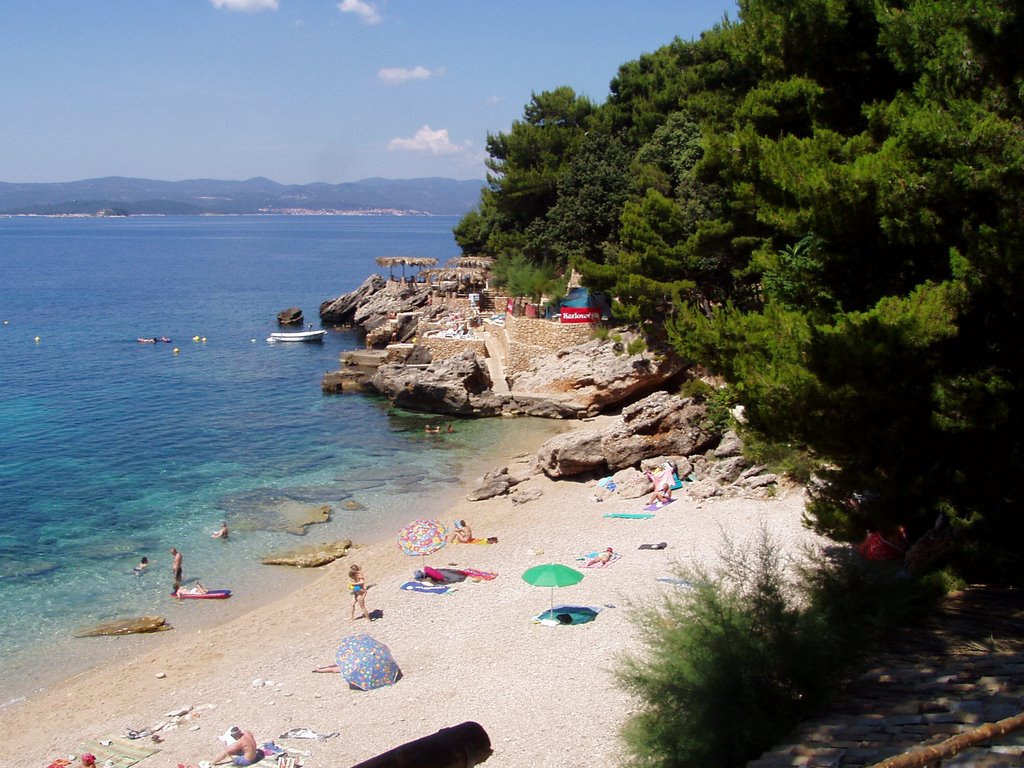 4.) Trstenica beach
Trstenica is the main sandy beach in Orebic. It has large areas of shallow water so it is highly occupied with families. Here you can rent deck chairs and parasols, enjoy in beach bars or rent different props for water sports. The beach itself is around 2 km long and offers lot of entertainment. It is one of the most visited and touristic beaches on Peljesac peninsula. So if you are looking for sand, crowds and different entertainment this is surely a place to be! From vacation house Sunny Palm or luxury apartment Sea Wave in Orebic you are there is few minutes :)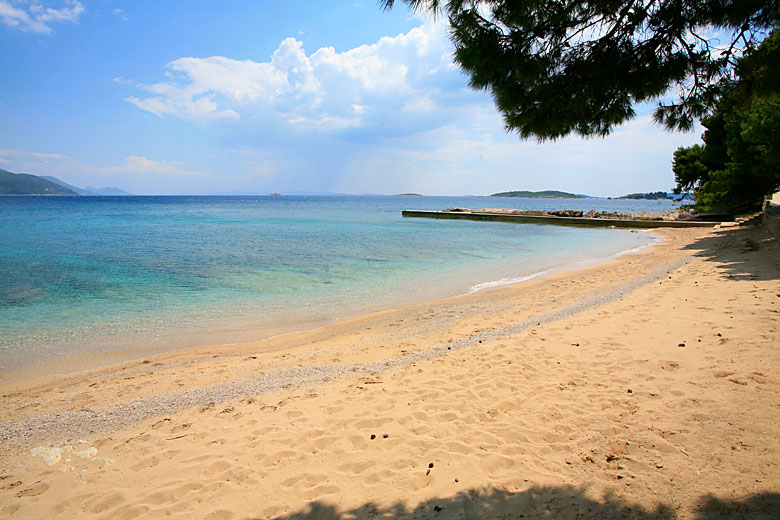 5.) Divna beach
Divna (pebble beach) is located 10 kilometres from Trpanj town. Trpanj town it is also a boarding ferry point to reach Ploce town on the mainland. Just follow the road from Trpanj towards Orebic and when you see sign for Dolnja Vručica or Autocamp Divna just follow this signs. From this crossroad you have around 7 km to the beach. Divna beach is one of the most famous beaches on Peljesac peninsula. The contrast of blue sea and green nature reflects the name Divna (which means gorgeous). From Viganj you have around 30 minute drive to reach this beach. Nearby is also a small island which can be reached by boat or even a SUP. To reach this beach from your luxury apartment Viganj we advise you to use the car :)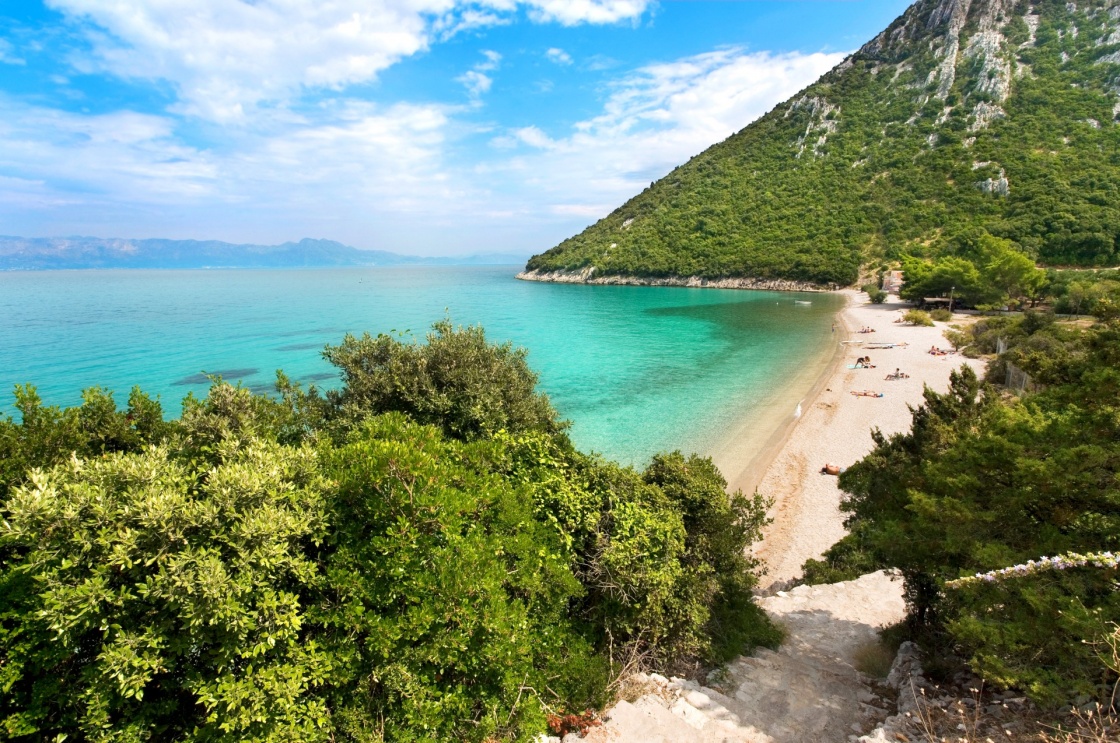 6.) Prapratno beach
Prapratno sandy beach is distanced 6 kilometres south-west of Ston town. It is considered as one of the most beautiful beaches on the whole Adriatic. Due to the fact the sea is shallow this is the paradise for the kids. It is surrounded with pine and olive trees which offer shelter from the sun. In nearby area you can find many restaurants, bars and shops. Sport's lovers can play beach volleyball, tennis or basketball. Here at the beach you can also rent parasols and deck chairs. The beach itself is located just opposite to the boarding ferry point for Mljet Island. If you are planning so spend you vacation in luxury apartments on Mljet Island then you have just enough time to spend an hour or two on this beautiful beach before you board a ferry :)